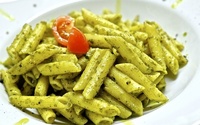 3
Pasta Pesto
/recipe/index.php/item/3-pasta-pesto
This is what your recipes could look like with Flexicontent Recipe. Check out the links on the left to find out more about all the features or take a look at the Video Lessons to see everything in action!
2
Fragrant Vietnamese beef noodle soup
/recipe/index.php/item/2-fragrant-vietnamese-beef-noodle-soup
This is a quick version of pho – a wonderful soup made with beef or chicken that the Vietnamese eat for dinner, lunch and even breakfast.
Préparation de la garniture Émincer les oignons, l'ail, couper la carotte et le fenouil en petits dés. Faire revenir ces légumes et aromates dans de l'huile d'olive. Ajouter le concentré puis le vin ...
1
Chaussons aux moules et à la saucisse longanisse
/recipe/index.php/item/1-chaussons-aux-moules-et-a-la-saucisse-longanisse
La longanisse… cette saucisse méditerranéenne à l'anis et au piment, une explosion de saveurs du sud. J'apprécie la cuisiner avec les poissons et les fruits de mer, au même titre que la soubressade ou le chorizo frais.
Ces chaussons aux moules, inspirés de ceux typiques de la région sétoise, sont réalisés avec de la pâte à pain comme pour les tielles.